Our top-of-the-line MT7 Series is available with 101 horsepower and includes an ergonomic and spacious cab.  Premium features such as a standard instructor's seat, Goodyear LSW tires, two rear remotes, and superior lift capacities for both the front-loader and three-point hitch come standard.
LOADER LIFT CAPACITY

5,139 lbs.

HITCH LIFT

5,952 lbs.

ENGINE HP

100.6 HP

PTO HP

85.5 HP
MT7101CPS – 100.6HP
*Exact model shown in 360° view may vary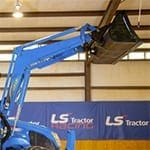 HIGH CAPACITY LOADER
High Performing Lift Capacity, Among The Industry Leaders In Lift Height (139.9 in.)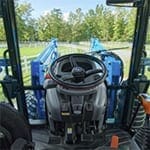 SPACIOUS CAB
Providing a Roomy Climate Controlled Working Environment
STANDARD FACTORY GRILLE GUARD W/LOADER
Full Length Grille Guard Protects Body Panels And Radiator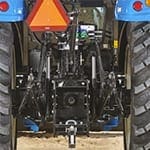 DURABILITY AND CAPACITY
Heavy-Duty Frame And Lift Cylinders Enable Three-Point Lift Capacity Up To 5,139 lbs.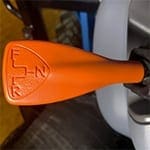 POWER SHUTTLE TRANSMISSION
Provides Efficiency And Comfort In Demanding Applications (Standard)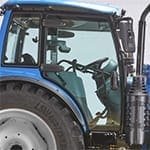 RIGHT-SIDE CAB ACCESS
Enables Operators To Access Both Sides Of The Cab (Door And Steps)
FOUR STANDARD REAR WORKLIGHTS
Provides Significant Illumination During Night Operation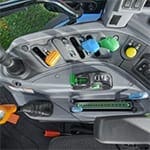 ERGONOMIC DESIGN
Provide Access To Controls For A Variety Of Applications
ENGINE
Type: 4 Cylinder, CRDI, Water-cooled
Model: F5G
Emission: Tier 4 Final
Engine HP (Gross): 100.6
PTO HP: 85.5
Rated Speed (RPM): 2,200
Displacement (cu. in): 206.7
Fuel Tank Capacity (gal): 30.4
DRIVE TRAIN
Transmission Type (Option): Power Shuttle
No. of Speed: 40 X 40
Forward Speed (mph): 0.1 – 22.6
PTO
Type: Independent / Ground Speed PTO
Rear, rpm: 540 / 750 / 1,000
HYDRAULIC SYSTEM
Control System: Position/Draft
Implement pump (gpm): 15.7
Steering pump (gpm): 6.5
Total flow (gpm): 22.2
Category, 3 pt hitch: CAT II
Hitch Lift capacity, lbs (Hitch end): 5,952
Remote Valves: 3 pairs (Front), 2 pairs (Rear)
DIMENSION
Overall length (Frame to Link, in.): 152.2
Overall width with tires (in.): 78.7
Wheelbase (in.): 90
Height to top (in.): 105.4
TIRE SIZE
WEIGHT
Total weight without ballast (lbs.): 7,714
Remote Valve- 1 pair (2 outlets) or 2 pair (4 outlets)
Front Weight with bumper (88lb X 8)
Rear weight (99lb X 4)
Beacon Lamp
FRONT LOADER – LL8100
Bucker Size (in): 83
Maximum Lift height (in): 139.9
Clearance with Attachment Dump (in): 103.3
Reach at Maximum Height (in):23.4
Maximum Dump Angle (deg.) 57
Maximum Rollback Angle (deg.): 46
Digging Depth (in): 4.6
Overall Height in Carry Position (in): 68.8
Lift Capacity(@ Pivot pin) (lbs.) 5,139
Breakout Force(@ Pivot pin) (lbs.): 5,313
Approx. Weight(Loader w/o Bucket)(lbs.): 1,660